Book reviews are assignments given to students at all levels of education, from high school through to college and university. These assignments are useful because they help students develop the skills needed to analyze various texts and important ideas. Book reviews are more complex and taxing than book reports. The latter are designed merely to provide short descriptions of the characters and plot of a given book while reviews are more focused on a detailed examination of a book's background and its underlying motives and problems. They also examine the importance of the text and provide a critical analysis of its contents. It is clear, then, that only those students who are sufficiently trained and experienced are able to write this type of paper successfully. However, Best-Writing-Service.com is available around the clock for anyone who has problems with this type of assignment.
Brilliant Writers
By accepting money in return for providing you with a custom-written review, our book review writing service is expressing its confidence in being able to complete your order to the highest standards. This confidence is the result of our unwavering trust in our talented, creative and hard-working writers who have sufficient experience to complete any order satisfactorily. To ensure our customers receive a great review, these experts analyze each given book, assess the contents, and devise new ways to interpret its meaning. As well as this, a big advantage of our work is that every completed order is accurate and correct in terms of grammar and style.
You might also be interested in Book report writing service
Our Priority is Avoiding Plagiarism
In paying for a book review, the customer should expect an original piece of writing, which is exactly what our book review writing service provides. We do our best to ensure each review is well written and unique. Our expert writers put a lot of effort into doing an in-depth analysis of your book and in evaluating the book's themes and problems. Not only does our writer study the book you provide but they also compare it to other texts by that author and to other books on the topic. They identify its benefits and shortcomings. Our writers are strictly forbidden from providing critiques found on untrustworthy websites, because many of these sources and free sample papers are not reliable. All the work we deliver is completely free of plagiarism because we understand how academic institutions view plagiarism and we support their policies.
How to Buy a Book Review?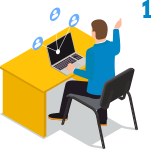 Submit your personal
information and
book review requirements.

Proceed with payment.

Get an order confirmation.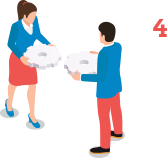 You can communicate
with your writer.

We will upload your
book review into a
personal account.
Affordable Prices to Suit Your Budget
It can be difficult to find affordable book review writing help, so we make sure our prices are relatively low. We do not believe that students should have to pay a lot for a good writing service. In part, this is because we care about our customers, their budgets and their education. Our prices make it possible for everyone to buy custom-written reviews and become one of our regular customers so that they can avail of our assistance.
We Can be Contacted 24/7
If it is the case you are looking for a trustworthy writing service, we are available to assist you night or day. Best-Writing-Service.com is happy to assist anyone who is not interested in wasting money and wants a properly-formatted, fully plagiarism-free review on time and at a fair price.
Useful Guide to Writing a Book Review
Most avid readers enjoy sharing their impressions about the books they have read. Book reviews are also useful because they help other people choose the next story to read or better understand the book they have just finished reading. Apart from being honest and informative, an effective book review should also be interesting and easy to understand. The easiest way to prepare such a review is to imagine you are talking to a friend who asked you to share your opinion.
We offer you a practical guide on writing an excellent book review.
Tips to Make Your Reviews Enjoyable for Others
First, Say What the Book Is About.
However, make sure there are no spoilers, such as mentioning of the outcomes of plot twists or the destiny of the characters. A rule of thumb would be not to discuss anything that happens from the middle of the book until the last page. If you are reviewing one of the books in a series, mention this fact, too, and say whether you feel like continuing reading the next one.
Discuss the Things You Particularly Enjoyed.
Describe your personal impressions and ideas about the book. If you do not know where to start, try answering some of the following questions:
Do you have a favorite character? Why?
Were the characters realistic?
Did the story intrigue you?
Which part of the book is your favorite? Why?
Discuss the scenes you think were described particularly well. But no spoilers!
Did any scenes make you laugh or cry? Did the book leave you indifferent?
Can you call the book gripping?
Now You Can Discuss the Things You Did Not Like About the Book, if Any.
However, be sure to explain your choice:
Was there a cliffhanger? Did you like it or find it frustrating?
Did you feel empathy towards the protagonist or was he/she poorly described?
Was the story not thrilling? Were you disappointed by the way the author discussed the topic?
Repeat the key points and conclude by saying whether you would recommend the book to someone else.